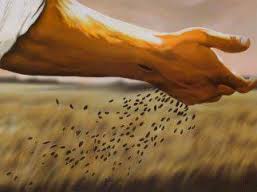 Who has believed what we've been saying?
Who has seen the Lord's saving power?  (Isa 53:1 NIRV)
Some people ask me why I write this stuff without getting paid for it.  Simply enough, I didn't pay to receive the messages, so I imagine it's only fair to offer them for free.
Basically, I sit down to write, I pray for a message, and I type what comes.  It is no concern of mine who accepts the message and who doesn't.  My job is simply to deliver it.
So is it worth it?  I would say yes.  I do encounter some opposition, but not as much as you might think.  That would probably be significantly worse if I were broadcasting my own opinions, but since I deal in Truth, I am more interested in ending arguments than starting them.
Sometimes I wonder though.  Why is it that I don't encounter any more opposition than I do?
Do the messages have more authority because they come from God?  Well, Jesus was speaking the words of God straight from His mouth, and they crucified Him, so that's not it.
Is it because of my superior skills as a writer?  Doubt it, because then somebody would be paying me more for my words by now.
Maybe my messages just aren't bold enough to make people angry enough to respond?  Maybe, but I've never really been one to hold back.  If anything, I'm known for erring on the side of Truth rather than grace.
So what is it then?  I have an idea.
You see, I pray before I write so that whatever message comes out of my laptop onto this page is the message God wants me to broadcast to the world, but I also pray when I'm finished writing, just before I click "publish," that the message will be delivered to just the people who need to see it.
This is where faith comes in.  I am never thinking of anyone specific when I write.  I just write.  I am completely relying on God that the message will be coherent, and understood by those who need to hear it.
I don't get many comments, and I am OK with that.  But it does mean the world to me when somebody drops me a brief note to tell me how something I tossed out onto the internet brightened their day or caused them to look at something in a new way.
That is how I know I am fulfilling my mission.  Why would I charge money for that?  Part of the trust and reliance I have on God is that my needs will be met if I obey his instructions.  And they are.
I never know what I'm going to write when I sit down to do a Truth Mission post.  Many professional writers will tell you that's a bad idea, but I am reminded of a story Corrie ten Boom told in her book, The Hiding Place.
Corrie would frequently ride the train from Haarlem to Amsterdam with Casper, her father.  He would always have the tickets in advance, but he wouldn't give Corrie her ticket until right before they got on the train.  The lesson is that she always got what she needed right at the moment she needed it, and not a minute sooner, even though she knew that it was coming.
That is how faith works.  God knows what we need before we do.  He holds onto it until just the right time.  This may not be what we perceive as the right time, because we are not patient people.  But faith is trust, and trust involves learning to wait.
Life isn't ever going to be perfect, and things rarely go well on our own schedules.  I would love to be able to post every day on here, and have advertisers falling at my feet wanting to sponsor my site, and make lots of money writing so that I would never have to hear an alarm clock again.
But that's not why I'm here.
I am here to plant seeds of Truth.  The harvest is God's job.
I'm not trying to "save the world."  But if something I felt prompted to write affects even one person's life, then I have changed that person's world.
And who knows where that might lead?