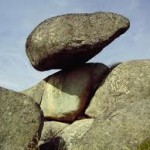 But if any of you lacks wisdom, he should ask God who gives to all generously and ungrudgingly, and he will be given it.  But he should ask in faith, not doubting, for the one who doubts is like a wave of the sea that is driven and tossed about by the wind.  For that person must not suppose that he will receive anything from the Lord, since he is a man of two minds, unstable in all his ways.  (James 1:5-8 NABRE)
Back in 2012, we ran a series on Doubt, in which we discussed that doubt could be healthy if you put it to work for you by testing new information in your search for Truth.
Nevertheless, doubt is not always a healthy thing.  It is one matter to doubt one person's interpretation of scripture or another individual's worldview.  It is quite another to doubt God Himself.
God knows what you need.  He knows it before you know it.  He is not only capable, but also willing to meet your needs.  Yet, it is not your need that He responds to when you pray.  It is your faith.
Prayer is based on trust.  We ask God to meet our needs and hear our petitions because we believe and trust that He will handle the situation.  If we didn't believe that, why pray at all?
But we still do that sometimes, don't we?  Have you ever offered up a prayer because it seemed like the thing to do, but you didn't really expect that your prayer would be answered?
Jesus' brother James is not one to mince words, as you can see in the passage above.  He explicitly says that someone who doubts when he prays will not get the answer to their prayer that they hope for.  The key word there is "hope."
There are two different kinds of hope.  There is expectant hope, where you are welcoming an event in advance that has not yet come to pass, and there is "I don't know if this is going to work or not, but I sure HOPE it does."
Again, what is the point of praying if you don't expect an answer?  Do you believe that God is God or don't you?  If we offer up a prayer from a position of worry, then we are literally "of two minds."  One mind is thinking of God answering the prayer, and the other is thinking of a Plan B.
When we do this, what we are really doing is making God the Plan B, because worry and anxiety will always cut in line ahead of whatever else is present.
So clearly, it is a daunting task to hold both kinds of "hope" in your mind at the same time.  Just as you cannot serve two masters, you cannot persevere on two different paths in life simultaneously.
So when James says that a person who does this is "unstable in all his ways," he is not only saying that this person is indecisive, but by extension, that he cannot be trusted.
That sounds inordinately harsh, but think about it.  We're talking about Christians here.  If we can't even make up our minds about relying on the God we claim to serve, then who would ever rely on US to follow through on anything?  A person who spends their life in an endless "What If?" loop never gets anything done that needs doing.
So if that's what unstable looks like, then what about stable?
Throughout the Bible, the image of a rock is used to denote stability.  God Himself is referred to as the Rock on many occasions.  In the Sermon on the Mount, Jesus also uses this image to describe a life lived by faith:
Therefore, everyone who hears these words of Mine and acts on them will be like a sensible man who built his house on the rock.  The rain fell, the rivers rose, and the winds blew and pounded that house. Yet it didn't collapse, because its foundation was on the rock. (Matthew 7:24-5 HCSB)
Notice the "and" in Jesus' statement.  It's not enough to hear what He's saying and answer with a "yeah, but. . ."  Stability and security come not from passive hearing, but from active LISTENING and the follow-through that accompanies it.
Now having used the word "security" there, I am reminded of one more issue regarding the answering of prayers.  One that is particularly sticky to us here in the USA.
(Come back for the conclusion in Part 6—Prosperity)