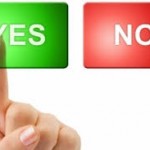 All prayers are answered.  Sometimes the answer is, "No."—Bono
One of the pitfalls of the Christian life is how easy it is to backslide from "highly favored child of God" to "spoiled brat."
We have seasons of life where everything seems to be going our way, and we give God the glory for that.  But then life throws us a curveball, and the whining starts.
"Why isn't God answering my prayer?  He said He'd give me anything I ask for.  Haven't I been 'doing it right'?"
The truth is that God does answer prayer, but not always in the way that we expect.
Sometimes we get excited and run up ahead when He needs us to hold back and notice something He wants to show us.  Sometimes selfishness creeps in and the "desires of our hearts" become more like the cravings of our appetites.  And sometimes, we simply don't recognize the answer for what it is when it comes.
God is not a vending machine or an ATM.  We exist to serve Him, not the other way around.  For this reason, the point of prayer isn't primarily to address our own needs.  Jesus explained it this way:
 Don't worry and say, 'What will we eat?' or 'What will we drink?' or 'What will we wear?' The people who don't know God keep trying to get these things, and your Father in heaven knows you need them.  Seek first God's kingdom and what God wants.  Then all your other needs will be met as well.  (Matthew 6:31-33 NCV)
Prayer is your Out box.  When you put something in your Out box at work, do you pull it back and put it in your In box again?  No, you put it in the Out box because you are finished with it.
Whatever it is that you are praying for, God has a plan for it.  It may not be the plan you would have scripted for yourself, but think for a minute.  Who's smarter, you or God?  Don't you think it might be possible that Father knows best?
There's more to it than that though.  Logic alone will tell you that God is bigger, more powerful and more able to meet your needs.  The question is, "Do you TRUST Him to do that?"  Do you believe that He not only knows what's best for you, but that He WANTS what's best for you?
How you answer that question will determine how you respond to His answers.  If you really believe that God's way will lead to a better result than anything you could have come up with, then it becomes a lot easier to roll with the changes when they do come.
(But what happens if we don't?  Come back for Part 5—Unstable)