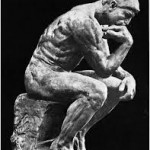 Although I have made it quite clear on this blog that I am a Christian, it might surprise you to learn that I am also a natural skeptic.  To get an idea of how that all started for me, let me take you back to the second grade.
So there I was in Sunday school at St. Mary's at the age of seven.  I still believed in Mommy and Daddy, but had learned enough about the world to know that not everything people told you was true.
So then, the teacher gives the first lesson about God, the Daddy who was actually all knowing, all seeing and all-powerful.  The vocabulary word for that day was "omnipotent," with which my seven-year-old tongue was having some difficulties.
Now wait a minute, I thought.  Not only are you going to tell me that there's this God I can't even see, but you are also going to tell me that he's stronger than my parents are?  Not only that, but he's stronger than Batman, Superman and the whole Justice League of America and the Avengers COMBINED?
There in that classroom, I had my first I'll-believe-it-when-I-see-it moment, the first step of my intellectual maturity moving ahead of my spiritual maturity.  So I asked a question as intellectually mature as my 2nd-grade mind could muster.
"If God's so strong that he can do anything, can he knock that clock off the wall?"
Now imagine the possibilities here.  I'm in SUNDAY SCHOOL!  In the presence of a TEACHER!  Who better to give me the spiritual knowledge, direction and guidance I needed to keep my spiritual maturity in step with my intellectual maturity?  It wouldn't take long to explain at a seven-year-old's level the difference between God's power and God's will.  Heck, I would have been happy with a simple yes or no!
But it didn't happen that way.
Instead, I got the scowl of ultimate shame and a note home to my parents for my impertinence.
And no answer to my question.
Which made me wonder what other questions didn't have answers.
And a skeptic was born.
Fast-forward 13 years.  That's how long I had been feeding the skepticism.  If you do that long enough, you lose the distinction between doubt and belief, and doubt becomes your belief. 
So I didn't believe in anything beyond what I could see or what I could do.  I allowed myself to believe the worldly lie that I could accomplish anything I set my mind to.  In my first two years of college, the strategy of a skeptic appeared to be working for me.
But then in October 1989, I found myself in that cemetery, watching my last shred of what I thought I knew about life wither and blow away.
Then the sun came out from behind a cloud, and I believed in God for the first time.
But this isn't the happy ending.
(For what happened next, come back for Part 10–Religion)