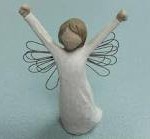 PRAISE AND PRAYER
God must come first, because He is first.  When you put God first in your life, you are not doing Him a favor; you are doing yourself one.  As Jesus said in the Sermon on the Mount:
 "So do not worry, saying, 'What shall we eat?' or 'What shall we drink?' or 'What shall we wear?'  For the pagans run after all these things, and your heavenly Father knows that you need them.  But seek first his kingdom and his righteousness, and all these things will be given to you as well." (Matthew 6:31-33 NIV)
So what is the best way to keep God on top of the list?  Well, the obvious answer is to pray.  But how?
Too often, our prayers sound like we are making God into our own personal vending machine.  We need or want something, so we push our prayer button and expect that we will receive an immediate answer to our prayers, all wrapped up like a Three Musketeers. 
Since we wouldn't be asking God for something if we didn't believe he was capable, and willing, to provide it,  why not start our prayer by praising Him for being that kind of a God? 
If we need His help, He is obviously greater than we are.  Starting our prayer time by meditating on just how much greater He is puts us in an appropriate posture for prayer.
Of course, once we're there, standing in the glory of His greatness, we realize how unworthy we are.  This is a good opportunity for confession. 
You can't help but call to mind where you've missed the mark when you have entered the presence of the Most Holy One.  But that's just it.  Even though we have missed the mark, and will do so again, He still welcomes us into His presence. 
Once we begin thanking Him just for paying attention to us at all, we become more aware of all the ways, great and small, that He is acting in our lives.  Thank Him for all of those things, because He didn't have to do any of them. 
I have found that the joy of the Lord comes to me in the course of my thanksgiving.  As David wrote:
"The Lord is my strength and my shield; my heart trusts in him, and I am helped.  My heart leaps for joy and I will give thanks to him in song." (Psalm 28:7 NIV)
It is through this strength that we finally get around to presenting our requests to the Lord.  Because now, instead of feeling confused and helpless and needy, we are renewed and refueled. 
(Next–Part 3–PRotect)