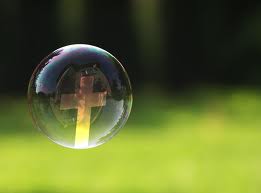 For every "them," there must be an "us" to balance it.  So instead of seeking Truth, you start seeking people who will agree with you.
It's not that hard to do in this age of technology.  For example, Facebook lets us create an alternate reality where, with canny use of the "hide" feature, everyone in your virtual world thinks you're brilliant.  You must be, or why would you have so many "likes" on your last post with nobody disagreeing with you?
Well of course everybody agrees with you, because you aren't friends with any of "them."  Now you have your own custom-designed "us."
Now here's where this gets especially dangerous for Truthseekers.  As I mentioned before, if you're busy building your "us," you have taken your eye off of the truthseeking.
Let me put this in the context of Christianity.  Those of you who are Christians, do you spend the majority of your time and energy seeking God or seeking other Christians to build you up and make you feel better about yourself?  Nothing wrong with being built up or feeling good about yourself, but remember that God is the one who builds up and tears down ultimately.
You don't need self-esteem when you know whose you are and in whose image you were created.  Other Christians can sharpen you by challenging you, educating you and edifying you, but I believe that the true tests of Christian character come from interactions with "the world," which is church-speak for "everyone who's not a Christian."
Yes, that means we have to be around "them."  Guess what, Christian?  Before you were one of "us," you were one of "them."  Remember?
You don't want to remember, do you?
Do it anyway.
How old were you when you accepted Christ as not just your savior from sin and death, but as the Lord of your life in the here and now?  Some of you did it as a child, and don't have many memories of how you were before.
I was 33 when I finally closed the deal, so I have a LOT of memories, some of them painfully fresh.  Satan reminds me of them every day, trying to tell me how unworthy I am of God's grace, which of course backfires on him, because I already KNOW that.  That's why it's called grace—because you don't deserve it.
So when attempting to make me beat myself up doesn't work, Satan reminds me of "them."
Those morons, those degenerates, just LOOK at them!  Flaunting their perversions in broad daylight, acting as if they were the normal ones, tearing "us" down at every opportunity, blindly following Barack Obama like lemmings.
Oops, tipped my hand a bit there, didn't I?
But here's the thing.  I voted for Bill Clinton in 1992.  I fiercely regretted it by 1994, but on election day 1992, I was at the Macon County Courthouse as the election results were pouring in, watching politicians sweat, pace and mutter to themselves.  I looked at my wife, at the 7 ½ months worth of swelling in her belly that would soon come into the world as my first child.  I felt exhilaration, and hope.  Hope for change.  I even briefly considered naming the child Hillary if it was a girl (it wasn't.)
Why did I feel these things, even though there was no logical reason for me to have that hope?  Because I was one of "them."
(So who are "them" really? Come back for Part 3–Need)