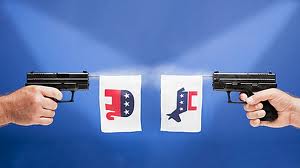 Election years are a trying time for everybody, but I find them particularly painful.  As a Truthseeker, I am always looking to end arguments by finding the common ground. 
Unfortunately, our political process has no interest whatsoever in providing us with that.  Our two-party system virtually guarantees an us-vs.-them mindset.  This can only lead to two things:
 1.      Polarization, where everything the other side does is completely evil, so instead of promoting your own ideas, you waste time bashing your opponents by attacking them personally rather than their policies.
2.      When your polls start dropping from the mudslinging, and the public starts to sympathize with your opponent, then you let the pendulum swing back toward the middle and call yourself a "moderate."  There may be such a thing as an actual moderate, but more often than not, it's somebody that was once far right or left that has compromised his principles to curry favor with voters whose lives he cares little, if anything, about.
A tension that I struggle with all the time, but especially in election season, is the temptation to hate people who disagree with me politically.  The thing is, as a Truthseeker, I generally stay out of the political arena (where truth is seldom, if ever, found). 
However, it seems unavoidable in election season that whenever you voice a view, no matter how pure your intentions, whoever is on the receiving end of it is sure to put some kind of political spin on it.  Next thing you know, you're in an argument.
As I have said before, a Truthseeker must never argue.  The minute that we are convinced that we are right and nothing can convince us otherwise, we cut ourselves off from receiving new information.  It could be that the one thing we don't know is the one thing we need to know to lead us to the truth. 
Furthermore, if you become convinced that your limited knowledge is all that you need to know, you will resent anybody who is trying to educate you, because you will have the perception that he is "trying to push his views down your throat."  Your emotional reaction will be one of hostility. 
What will happen next is that you will project your hostility toward that individual in that moment onto the view itself, and by extension, everyone else who holds that view.  That is how you make the election of creating a "them." 
(What happens next? Come back for Part 2–Popping the Bubble)