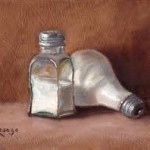 PROVE IT!
If Christianity really does have a PR problem, the greatest single source of it may be the perception of hypocrisy.
It is not only possible but common for someone to have a set of ideals that they occasionally do not live up to.
On the other hand, an actual hypocrite is someone who deceptively and intentionally elevates their own outward image while inwardly or privately behaving in a completely different manner.
Unfortunately, throughout the centuries, many people within the church have done just that.  Even more unfortunately, we live in a culture that is equally self-seeking rather than Truth-seeking.
As a result, people who do not want to believe in God, instead of trying to learn more about Him and His followers, will instead seek out examples of why NOT to be a follower.  The most common excuse seems to be, "Christians are hypocrites, so why would I want to be one?"
Even so, our primary concern should not be to defend ourselves against the charges of hypocrisy by merely saying that we are not hypocrites.  Our job is to PRove it.
If anyone is to believe that Jesus Christ is the savior of the world and that we, the Church, are His ambassadors, then it is imperative that our walk matches our talk.
Jesus summed up our mission in this excerpt from the Sermon on the Mount:
You are the salt of the earth.  But if the salt loses its saltiness, how can it be made salty again?  It is no longer good for anything, except to be thrown out and trampled by men. 
You are the light of the world.  A city on a hill can not be hidden.  Neither do people light a lamp and put it under a bowl.  Instead they put it on its stand, and it gives light to everyone in the house.  In the same way, let your light shine before men, that they may see your good deeds and praise your Father in heaven. (Matthew 5: 13-16  NIV)
Notice that the motivation for a Christian's good deeds is so that people will praise God, not the doer of the deeds.  Another person could do the very same deeds, praising Jesus with his mouth the entire way, but with self-serving motivation.  The world will notice this, and affix the label of "hypocrite" appropriately.
So here are a few PRactical ways to PRove to a skeptical world that your faith is genuine:
Know your Bible.  If someone twists a Bible quote, you need to be able to call them on it in such a way as to correct the misinformation without condemning.
Show an attitude of gratitude, rather than one of entitlement.  People perceive what you value most by how bent you get if you lose it.
Persevere through trials; don't be a whiner.  Anyone can complain, but complainers never see the view from the top of the mountain.
Speak only what is beneficial for building people up and meeting the needs of all who listen (see Ephesians 4:29). Hint: the best way to find out what their needs are is to LISTEN before you speak.
Invest time and energy into relationships and consider other people's needs more important than your own.  People tend not to care what you know until they know that you care.
NEVER COMPROMISE THE TRUTH!!!  Just as we do not serve the world by preaching at them from a judgmental stance, neither do we serve them by blending in.
The only difference between Christians and non-Christians is Christ, but that difference makes ALL the difference.
(Next, Part 7—The PRize)