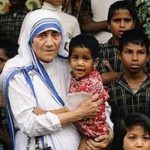 If you love only the people who love you, what praise should you get?  Even sinners love the people who love them.  If you do good only to those who do good to you, what praise should you get?  Even sinners do that!  If you lend things to people, always hoping to get something back, what praise should you get?  Even sinners lend to other sinners so that they can get back the same amount!  But love your enemies, do good to them, and lend to them without hoping to get anything back.  Then you will have a great reward, and you will be children of the Most High God, because he is kind even to people who are ungrateful and full of sin.  Show mercy, just as your Father shows mercy.  (Luke 6:32-36 NCV)
Many people believe in the Golden Rule—Do unto others as you would have them do unto you.  Yet, it seems that many folks are waiting to be done unto before they do any doing.
In the passage above, Jesus is advocating a totally different strategy—mercy.  Mercy is not concerned with everyone behaving properly or with showing favoritism toward those who do.
As Christians, we are called to set ourselves apart by being merciful as our Father is merciful.  So what does that look like?
Romans 5:8 says, "…while we were still sinners, Christ died for us."  He didn't wait for us to get in line to meet His standard (which is impossible anyway).  He didn't ask, or even consider, what we could do for Him.  He went first.
This is probably the easiest way to define mercy—mercy goes first.  Mercy looks to the needs of others, and sets about meeting them before considering anything else.
This doesn't come naturally to most of us.  In our culture, we're used to "getting what we paid for."  If we are going to exchange our money, time or talent, we generally expect to get something in return.  For this reason, it seems natural for us to think about how we're going to be paid back before we make an investment.
The thing is the people who are the most in need of mercy tend to be the ones who CAN'T pay you back.  But they CAN pay your mercy forward.
Have you ever found yourself in a situation where you relied on someone else's mercy, knowing you wouldn't be able to reciprocate?  You might have felt gratitude at first, but later, the sense of indebtedness might have made you feel guilty.
Don't go there.  There's a better way.  Instead of focusing on what you can't do for the person who helped you out, think instead of what you ARE able to do for someone else who is in a more desperate situation than you are.  There's always someone.
Here's the catch, though.  The person most in need of your mercy might be someone you don't like.
This is where the "love your enemies" bit comes in.  Jesus never asked us to LIKE our enemies.  Remember though that agape love is not a feeling; it is an action.  As such, it is perfectly possible to show mercy toward someone who has been adversarial to us, even if there's still a part of us that wants to push them down the stairs.
But here's the part we all need to remember.  We were just as adversarial to God when He chased us down.  He continues to bless us, even when we don't thank Him.  So if we are endeavoring to be "sons of the Most High," we shouldn't be standing around waiting for thanks either.  It feels nice to be appreciated, but remember, this is not the goal of mercy.
This is mercy–to listen with compassion to the people who annoy you the most in order to learn what their greatest burden is, then to speak only that which will help relieve them of that burden, and if that is not possible, to remain silent and allow God to do His work in them, rather than burden them further with opinions and judgment.
And that is what God offers to us all day, every day.  Think about that for a second.  How does it make you feel to know that you don't ever have to put on a fake face for God to receive His mercy?
Now how does it make you feel to know that you have the power to make somebody else feel a little bit of that?  So go do it.  And focus more on the "you're welcome" than the "thank you.