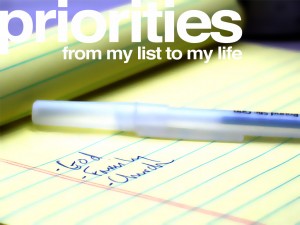 Many folks today say that Christianity has a P. R. problem. Like it or not, they have a point.
Whether the P. R. problem comes from people outside the church speaking from ignorance, or denominations within the church at each other's throats over doctrinal issues and such, pretty much anyone disposed to do so can find something about the church with which to take issue. 
Why bother with that drama?
No, dear readers, instead of blathering on about the P. R. problem, I am here instead to propose some PR solutions, though not perhaps in the way you are thinking. 
I believe that the Church's image problem is best addressed from the top down.  Just as the head directs the body, so the heads of churches set the tone for their congregations. 
Likewise, as the heads of their families, fathers set the tone for their wives and children.   When the leaders of both churches and Christian families have their houses in order, the world can not help but notice.  It is my position that the most effective way to fix the church's  P. R. problem is by living out these "PR" solutions.
(I am going to be speaking primarily to the men here, seeing as how I am one.  Ladies, especially single moms, feel free to listen in too though, as I expect you'll find something useful here as well.)
PRIORITIES
Guys, your main thing is keeping your main thing the main thing.  Too many of us men have lives that are out of balance.  We have so many responsibilities that sometimes our priorities get confused.
Here is a simple way that I have found to keep my priorities in their proper order.  When you find yourself overwhelmed, overbooked or overcommitted, this is a good way to sort out your to-do list, whether you actually have a list or just keep one in your head. 
I call this the Hierarchy of Service Priority (mostly because I couldn't think of anything else to call it–please feel free to come up with a better name for it if you like).  It goes like this:
     

God

     

Spouse

     

Kids

     

Extended Family

     

The World (friends, acquaintances and basically everybody else)

     

Yourself
The point of this hierarchy is to keep in mind that if you are spending energy serving someone on this list without having first given priority  everyone else ABOVE that level, that is a good sign that you are out of balance.  For each level of PRiority on the list, I have a PRactical solution to help you remember.
(for more on that, tune in for Part 2–PRaise and PRayer)