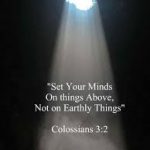 Stay focused on what's above, not on earthly things, because your old life is dead and gone.  (Colossians 3:2-3a VOICE)
Why is it that we dwell on things that we know aren't good for us?
How many times have you caught yourself starting a sentence with "I really need to," but then you don't actually do what it is you really need to do?  It's as though we think we'll at least get partial credit for acknowledging that we have fallen short of what is necessary.  I really need to eat a salad, but I'm going to have pizza instead.  I really need to go to the gym, but I seem to have grown butt roots here on the couch.
Or how about these.  I really ought to pray more.  I really ought to read my Bible more.  I really ought to get off the Internet and pay attention to my kids.  I really ought to put my phone down and talk to my wife.  Can you relate to any of this?
You could say that acknowledging the problem is the first step to solving it, and it is.  However, one step does not a journey make.  You have to take the next one.
The thing is, the next step is usually not anything difficult.  We just. . .don't. . .do it.  How hard is it to make simple choices like ordering something different at the restaurant, standing from a seated position, or simply TALKING to someone?
So why do we make it so much harder than it is?
I would chalk it up to a combination of habit and fear of change.  We do what we do because we have always done it. If not always,  then at least for long enough that it has become automatic.  Habits are comfort zones; therefore, breaking them makes us uncomfortable.  We will always gravitate toward comfort, no matter how obvious it is that a change would do us good.
Christians do not have this luxury though.  When we turned our eyes toward Christ, we also turned them toward heaven, where He is.  Once you have seen a glimpse of the eternal, the things down here lose their luster a bit.
The problem is that the things down here are the things we are used to and are surrounded with every day of our lives.  We love our stuff.  We love being in control of our own schedules.  We love our dreams and ambitions.  Even if they no longer satisfy us as they once did, we have claimed them as our own.  Therefore, we defend them.
We can not forget this simple truth though.  When we made Jesus the Lord of our lives, we signed a spiritual quit claim deed for all of that stuff.  Our possessions are not ours, because the earth and everything in it belong to the Lord.  We are not in control of our lives, because we have no idea what the next day, or even the next hour, may bring.  And all of our dreams and ambitions die with us when we die.  From a spiritual standpoint, they have already died, because we surrendered them when we surrendered to Christ.
When we talk about "overcoming the world," we are usually focused on all the evil bad things that we wish we didn't have to deal with down here, and that we know won't exist up there.  However, if we are serious about overcoming the world, then we also must focus on overcoming the pleasures down here along with the pains.  This is much more difficult, because while pain usually catches us by surprise, pleasure is something we continuously seek.  We want to do what we want to do when we want to do it.
Now is it bad to do things that feel good?  Not necessarily.  The point of this is that we need to realize that eternal life with Christ will feel, and indeed be, better than anything we have going on down here.
The thing we have to learn then is to be patient for the reward that is coming for us up there instead of being consumed with rewarding ourselves down here.