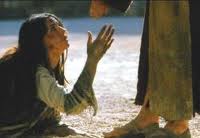 Since no one can measure up to the standard of God by his or her own efforts, it is therefore senseless to expect anyone else to measure up to our own standards.  
We are in no position to judge the nature, or character, of another, because we share the same sinful character.  To attempt to judge someone in this way would make us guilty of self-righteous intolerance. 
However, there is such a thing as righteous intolerance.  This cannot come from any person's will or way of thinking, as Solomon wrote, "There is not a righteous man on earth who does what is right and never sins"  (Ecclesiastes 7:20 NIV). 
The only possible source of righteous intolerance is the only person who never sinned–Jesus.
One of the central tenets of Christianity is that Jesus is not just the only begotten Son of God, but is in very nature God Himself (see Philippians 2:6).
Being God in His nature, Jesus visibly displayed all of the invisible attributes of God's goodness.  Being all good, He is diametrically opposed in His nature to all evil.  Therefore, Jesus is opposed to intolerance—the self-righteous intolerance toward people.
John 3:17 tells us that Jesus did not come into the world to condemn it, but to save it.  This was not because we deserved saving, but because He is good.  This is the essence of grace, which is the ultimate expression of tolerance. 
Throughout the Gospels, Jesus shows his tolerance of people by showing mercy and grace toward sinners, even the very ones who put him to death. 
However, it cannot be disregarded that while Jesus was a friend of sinners, He was never tolerant of sin.  In the Sermon on the Mount, He uses over-the-top imagery to illustrate his intolerance for evil behavior:
"If your right eye causes you to sin, gouge it out and throw it away.  It is better for you to lose one part of your body than for your whole body to be thrown into hell.  And if your right hand causes you to sin, cut it off and throw it away.  It is better for you to lose one part of your body than for your whole body to go into hell." (Matthew 5:29-30 NIV)
One of the most common Bible verses to be quoted out of context by non-Christians (usually in attempts to self-righteously justify sinful behavior) is John 8:7.  The religious leaders are preparing to stone a woman caught in the act of adultery. In response, Jesus is quoted as saying, "He that is without sin among you, let him first cast a stone at her (KJV)."
Although this passage does not appear in original manuscripts, and therefore may not have actually happened, the point of the story remains clear:  because we are all sinners, no other person is qualified to cast a stone at us. 
Nevertheless, though none of us are righteous, we must remember that we will all be judged one day by the One who is. 
This is why, after showing mercy to the woman caught in adultery, He admonishes her (and us) to "go, and sin no more (John 8:11b KJV).
(Stay tuned for Part 4–Our God is a Jealous God)