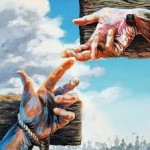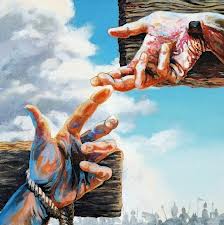 Finally, THIS is the happy ending.
God called my bluff, and decided it was time for me to make the move to close the gap between us.  I announced my impending divorce to the church choir and tendered my resignation from the music ministry.
That night, as the church emptied, I hit my knees in the back of the church and finally acknowledged my need, my complete and utter dependence on the Daddy who was always there, even when I tried to run away to hide from Him.  He was with me even through the years when I publicly called his children weak-minded fools.  He was there when I lashed back at Him in anger for everything I assumed was His fault.
God waited, and watched.  When I finally turned around to face Him, he was right there where he had been all along.
Doubt died that day, once and for all.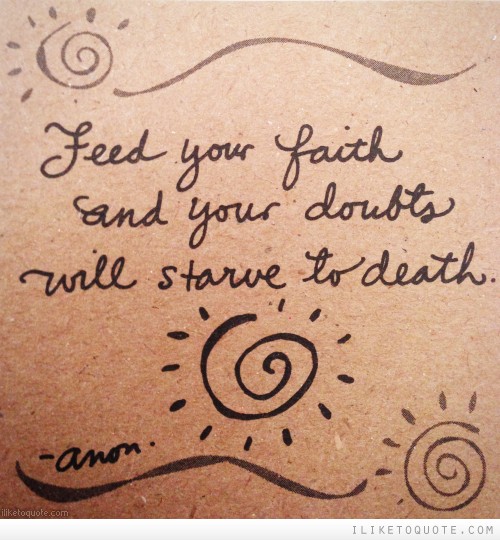 There are still days when I doubt myself, but I never doubt my Abba, my Lord and my God. I have found that every time I acknowledge my weakness and my dependence, God asserts His might and power.  As He reminded Paul, "My grace is sufficient for you, for my power is made perfect in weakness (2 Corinthians 12:9a NIV).
I have still never seen God, just as I have never seen the wind.  However, just as I have seen the effects of the wind, I have seen the effects of God.  I don't have to try to wrap my brain around the intricacies of DNA or photosynthesis or the size of the universe to try to logically point to an Intelligent Designer.  I just have to look in the mirror and around at my home and my family.
I am married again, and the two of us really are of one mind and spirit.  All of my children respond to God, because they have a spiritual leader in their house that is just as much, if not more, concerned with their spiritual growth as their physical and intellectual growth.  The peace and love of the Father, Son and Holy Spirit reign in our house.  Now to be sure, there are times that are not peaceful, challenging, and even infuriating.  All families have these.
However, as a family, we are now in a place where the firm foundation we come back to is our personal relationship with the God of the Universe, the salvation made possible by the sacrifice of His Son, and the guidance and comfort of the Holy Spirit.  I see the evidence of this every day.
And that is all I need to send doubt packing.