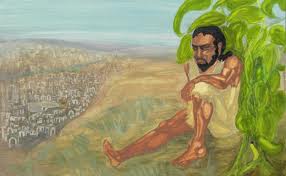 God displays his heart for the people he created very explicitly in the book of Jonah, my personal favorite in the entire Bible.
Most people know about Jonah being swallowed by the whale/big fish, but that's not really the point of the story.
Jonah was on that ship in the first place, because he was (futilely) trying to flee from God.  He was fleeing, because God had told him to go and preach in Nineveh, the Assyrian capital.  In that time, the Ninevites were the ultimate "them" to the Israelites.
So after his aquatic incident, God gives Jonah a second chance to preach to Nineveh.  He gives the shortest sermon in history, "Forty more days and Nineveh will be overturned (Jonah 3:4 NIV)."
But then, a curious thing happens.  The Ninevites listen!  And REPENT!
So Jonah goes up to a high place where he will have a most excellent view of God destroying "them" down in Nineveh.  Except it doesn't happen, because God has heard their prayers and is giving "them" a second chance.  Jonah, being one of "us" (that is, Israel), has issues with this.  But listen to God's response:
". . .  Nineveh has more than a hundred and twenty thousand people who cannot tell their right hand from their left, and many cattle as well.  Should I not be concerned about that great city?"  (Jonah 4:11 NIV)
Jonah is the only book in the Bible to end with a question.  So what's the answer?
Did you notice the theme in the book of Jonah?  Both Jonah AND the Ninevites get second chances.  God does not show favoritism.  Because he made all of us, to Him, there is only "us."
But here's the catch.  We have to affirm that Truth.  God is willing to include anyone as "us," but WE have to accept the invitation.
We become part of "us" by laying down our pride, which is the mother of all sin, and the creator of "them."  We become part of "us" by trusting God with our hearts, our fears, our anxieties, even our bodies.  By submitting our will to His, he responds by meeting all of our needs.
Now at this point, we still have a multitude of bad habits to break (Lord knows I do), but we have an example to follow in Jesus.  His perfect love drives out fear, the constant presence of His holy spirit keeps us safe from harm (if we let Him), and if we follow Him faithfully, the hope for our future will play out in front of our eyes, day by day.
The key word there was "faithfully."  We do have a part to play in this transaction.  If we allow ourselves to be polluted by the world (James 1:27), and look to the things and people of this world to meet the needs that only God can, then we will become the "them" that we had despised.
The Bible calls "them" sinners.  Here's the clincher—if you look at other people and see a "them," you are one of "them."
However, if you look at other people, no matter how different they are from you, and still see an "us," or at least a potential "us," then that is a sign that the Holy Spirit is within you, transforming you into the likeness of the Jesus, who being one with the Father, created us to be "us."