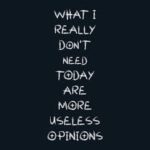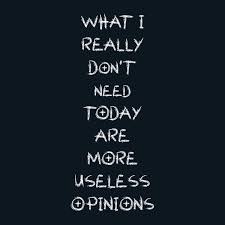 Opinions are like noses.  Everybody has one, and they're always in your face.
 We say, "Everyone is entitled to his or her own opinion," generally when we disagree with that opinion.  But are we really entitled to an opinion?
Everyone who has an opinion strong enough to give voice to it typically assumes that his or her opinion is the correct one.  Nevertheless, there's always somebody who will disagree with that opinion and offer one of their own.
So how do you determine whose opinion is the right one? 
Well, the truth is that NO opinion is the right opinion.  Here's why.
An opinion is based on belief and perception with varying degrees of fact sprinkled in.  Different facts, beliefs and perceptions will lead to different opinions.  The one thing every opinion has in common, however, is that every opinion is based on an incomplete picture of the situation at hand. 
In other words, an opinion is simply somebody telling you what they think about what they don't know.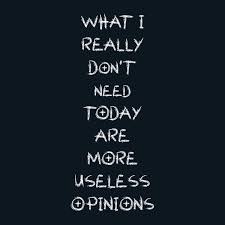 For this reason, opinions can only serve the purpose of starting arguments.  Furthermore, these arguments have little hope of resolution.  For even if people make a show of listening to another's opinion, much more often than not, they will still inwardly cling to their own.  Such a conversation will probably end in a mock-civil state known as "agreeing to disagree." 
I believe the technical rhetorical term for that is "load of crap." 
A Truthseeker never agrees to disagree.  Rather than attempting to win the argument by holding an opinion in a death-grip to the bitter end, a Truthseeker will do an end run around the argument to the common ground, seeking resolution in the relationship along with the Truth.
     Truth is Eternal—it was here before you got here and will remain, no matter what else changes.

    Truth is Universal—it affects everyone in exactly the same way.

    Truth is Indisputable—it is what is left over at the end of the argument.
Opinions simply do not fit these criteria.  If it is an opinion that you formed yourself, it started with you and will probably die with you (unless you manage to convince some people to carry it on after you are gone).  Therefore, opinions are not eternal.
Opinions definitely do not affect everyone the same way, or everyone would have the same opinion.  Therefore, opinions are not universal (duh).
Even more of a "duh" is that opinions are not indisputable.  In fact, they are at the very core of every dispute.
Therefore, we can only logically conclude that opinions are not Truth.  As such, NO opinion can be the right one.
Now here's the sticky part—that means that YOURS isn't the right one either.
So what to do then?  Simple!  Seek Truth, share it when you find it, and have nothing to do with opinions.  As Paul advised Timothy:
Don't have anything to do with foolish and stupid arguments, because you know they produce quarrels.  And the Lord's servant must not quarrel; instead, he must be kind to everyone, able to teach, not resentful.  Those who oppose him he must gently instruct, in the hope that God will grant them repentance leading them to a knowledge of the truth. (2 Timothy 2:23-25  NIV)
No one is entitled to an opinion, but EVERYONE is entitled to Truth!