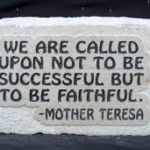 Hold on to loyal love and don't let go, and be faithful to all that you've been taught.  Let your life be shaped by integrity, with truth written upon your heart.  That's how you will find favor and understanding with both God and men—you will gain the reputation of living life well.  Proverbs 3:3-4 (TPT)
In Part 3, we learned that one way to win the respect of others is to mind our own business and show appreciation.  Here's another one—being faithful.
Probably the most common way we use the word "faithful" today is in the context of a relationship.  When we are "faithful" to a significant other, it is a sign of focus and commitment.
The original Hebrew word emeth, rendered "faithful" in the verse above has much more depth.  It means sturdy, stable and trustworthy.  Something you can depend on without thinking twice.  In the King James Version, emeth is most frequently translated as "truth," so you can see why it's a favorite word of mine!
The word signifies things that are firmly established as being right.  To apply this word to a person would be to describe them as reliable, sincere, and one who clings to the Truth.  And as we proclaim God as the source and embodiment of all Truth, it stands to reason then that a faithful person is reflecting the image of a faithful God.
We like it when we can rely on people, don't we?  It sure takes a lot of stress out of life when you know you can count on someone.
Sometimes, though, it seems that we may not put as much energy as we should into being that kind of person.  If faithfulness is a sure way to win respect, then a sure way to lose it is hypocrisy.
A hypocrite is, at the heart, a pretender.  A hypocrite shows you one face while being someone else underneath.  If a person makes a habit of being this way, it won't take long for the word to get out.  A hypocrite is untrustworthy, because you never know what to expect from such a person.  One thing you won't expect is truth and faithfulness.
There is no room for hypocrisy in the Church.  As Paul advised to the Colossians:
Don't lie to each other.  You've gotten rid of the person you used to be and the life you used to live, and you've become a new person.  This new person is continually renewed in knowledge to be like its Creator.  Colossians 3:9-10 (GW)
If you have professed Jesus Christ as your Lord and Savior, none of the bad stuff you did before that counts against you, but there's a catch.  You can't go back and do that stuff anymore.  (Of course, if your conversion is genuine, you won't want to anyway, so it's all good.)  But God created you in His image, and if you have accepted His invitation, you have become eternally adopted into His family.  Since God is the source of all love and the essence of all Truth, that means you have His faithfulness in your DNA.
It doesn't matter who you are or where you came from.  God created you to do the work He had planned for you, but He also gives you the strength and endurance to perform this work faithfully.  When you follow through with that, it pleases God to see His plan working itself out in your life.
And as an extra added bonus, other people will notice not only the work you're doing, but also the manner in which you do it.  They will see your sincerity and know that you are someone they can trust.
(Some days this is easier than others, however.  Come back for Part 6—Courage.)