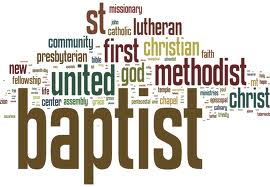 "And let us consider how we may spur one another on toward love and good deeds.  Let us not give up meeting together, as some are in the habit of doing, but let us encourage one another. . ."  (Hebrews 10:24-25a NIV)
The Yellow Pages of my metropolitan area list 345 churches.  They are split into 60 different denominations.  Some of these denominations have sub-denominations.
This makes for some interesting reading.  We have four different kinds of Lutherans and seven different flavors of Baptist.  We have an "Independent" Catholic Church (the word "Catholic" comes from the Greek cath holos, meaning "according to the whole" or "unified").  There are six Churches of Christ, five Churches of God, and seven Churches of God IN Christ.  We have six interdenominational churches, 23 non-denominational churches and one church of "various denominations."  And we have 49 churches that just call themselves "Christian."
 So which one is the right one?
 If I were to poll people from all 345 churches, I would bet that the majority would say, "OURS is the right one."  Many wouldn't, but I imagine a lot would. 
Of course, many of these 345 churches work together and support each other.  But some don't.  When churches are in opposition to each other, it is usually because of a doctrinal difference.  It may be something as petty as the style of worship music, or it may be something much more significant, such as the authority of scripture.
The causes, however, as not as important as the fact that division exists within the church.  This is significant because this division is noticeable by those OUTSIDE the church.
If our job is to make disciples of all nations, how good of a job do you suppose we're doing if we're going to war with each other?  Why would anyone want to be part of a movement that is divided against itself?
Believe it or not, many folks outside the church are seeking the Truth the same as we are.  Some even accept Jesus on a logical level, but don't want to be part of a home church because of all the drama and division. 
Even the simple fact that there are 345 churches to choose from in my area is overwhelming in its own right.  It would take 6 ½ years to visit them all.  Can you imagine going to the store for one item and having 345 different brands of it from which to choose.  I'd stay home too.
Now of course, as Christians, we know that the Holy Spirit will lead us to where we are supposed to be.  However, non-Christians DON'T know that. 
We have to remember that agnostics are creatures of logic and reason.  They have to see to believe.  Because they have not received the Holy Spirit, they can not follow His leading.  The only thing they have to go on is what they see.
And that's us.  And our division.  Logic dictates that Truth and division can not co-exist.  Truth can not be divided on itself just as Christ can not be divided.  So if a person comes seeking Truth from a logical standpoint, they are also seeking unity.  Where they do not find unity, they assume they have not found Truth.
So they leave.  They do not become disciples.
And we have failed in our primary mission.
(Next, Part 4–The god We Want)