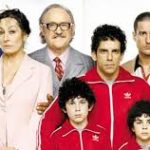 "You can choose your friends but you sho' can't choose your family, an' they're still kin to you no matter whether you acknowledge 'em or not, and it makes you look right silly when you don't."
Harper Lee, To Kill a Mockingbird
Some of us are blessed with great relationships with our extended families, others not so much.    But we keep going back to the cookouts, don't we?  Because, well, they're FAMILY!  It's always a little easier to put aside differences when you're tossing beanbags with brats on the grill.
But after the cookout, and the cleanup, and the kisses goodbye, the differences remain.  Every family has them.  However, the differences are thrown into sharp relief in a family where some of the members are Christians and some are not.
If you, like me, are among the first in your family to come out as an evangelical Christian, it can be uncomfortable at first.  Not only do you stick out like a sore thumb, but you see everyone else differently. 
No matter what your family situation is or what kind of relationships you have with them, there is one thing you must never forget.  It wasn't anything you did that made you different from them. 
For by grace you have been saved through faith; and this is not your own doing, it is the gift of God—not because of works, lest any man should boast.  (Ephesians 2:8-9 RSV)
Now I do not want to assume that everyone reading this knows what is meant by "grace."  Basically, it means "unmerited favor," or getting something you didn't earn.
Say for example you're speeding down the interstate, and you get pulled over.  You know you deserve a ticket.  Getting what you deserve is justice.
What you HOPE will happen instead is that the officer will let you off with a warning.  Not getting what you deserve is mercy.
But what if instead the officer comes up to your car window and says, "You and I both know you have broken the law.  But nobody's perfect.  So instead of a ticket, I'm just going to give you this Hershey Bar.  Have a nice day!"
 That's not normal.  Not for a regular person anyway, but Jesus wasn't a regular person. 
 He didn't wait for us to clean ourselves up and be "good enough" for Him before He called us to follow Him.  We'll never be good enough.  That's the whole point of grace—we can't do it ourselves.
Meanwhile, back at the family reunion. . .
Take a look around the yard at all these people getting on your nerves–these people you feel you have nothing in common with anymore.
Now look at them again, Christian.  You DO have something in common with them—genetic material.  Before God, in His mercy and grace, saved you, you were just like them.  In more ways than you care to admit, you still are.
So PRactice grace by loving your family for who they are, not who you think they ought to be.  PRactice grace by appreciating them for what they do, not for what they can do for you.  PRactice grace by looking past the rough edges to the heart inside—the heart that has a God-shaped hole in it just like yours once did.
But most of all, PRactice grace by simply hanging around with them.  Look past the differences and find the common ground.
After all, they're family.  And you're stuck with them.
(Next, Part 6—PRove It!)