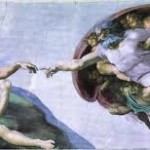 This is my declaration of dependence
This is my declaration of my need
This is my declaration of dependence
On the one who gave His life to me
 

Stephen Curtis Chapman

"Declaration of Dependence"
It is easy to say that, in our culture today, we feel less dependent than ever before.  The reality, however, is that we have merely shifted our dependence.
Every culture in every age has been dependent on something.  For example, when the Israelites didn't like the way that God and Moses were leading them through the desert, they made the idol of a golden calf and worshipped it instead.  Now how stupid is it to bow down to something you just made with your own hands?
Hold the phone a minute.  Literally.
That gadget in your pocket or purse right now?  Tell me you're not dependent on it.  All the things with screens and buttons that you own?  Even the computer you're reading this on right now?
Make a quick mental list of all the things you couldn't imagine living without.  The things you "don't know how we ever got along without."
All of them were made by human hands.  Your car, your alarm clock, your indoor plumbing, your coffeemaker, your water heater, your air conditioner, your refrigerator/freezer.  I could go on and on.
All of these things were created by people.  All of them can break.
Nevertheless, as hard as this may be to admit, you can live without every single one of them.  We know this is true, because before these gadgets were invented, EVERYBODY lived without them.
All of these things were invented because their inventors believed that life would be better with them.  At least that's the message that the advertisers hammer home to get you to buy more of this stuff.
Why do countless people stand in line for the new iPhone?  Because they believe they need it to make their life better, and they have become blind to the reality that the entire human race has gotten along fine for its entire existence WITHOUT being dependent upon that new iPhone, or whatever the toy du jour is.
So what do you REALLY need?  Let's make another list.
You need air, water, food, shelter, and physical protection.  Meeting these needs will ensure the continuance of your existence.
But here's something you might not have thought of.
ALL of these needs require you to be dependent on something you did NOT make with your own hands.
Now sure, you can cook your own food, build your own house, sew your own clothes, and maybe even make your own medicine if you know how.  But out of what?
The food you are cooking either grew out of the ground by a process you didn't invent or had life of its own that you did not give it.  The materials that you made your own clothing, shelter or medicine from already existed in a form you did not create.
The bottom line is that there really is no such thing as a man-made need.  There are all kinds of man-made desires, but you can live without every single one of them.
(So how can we tell the difference?  Come back for Part 7–Healthy Doubt)