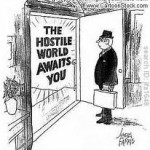 As we covered in Part 2, to a person in the light, light is preferable, and to one in the dark, darkness is preferable. This is simply because that people tend to get comfortable with whatever state of existence they find themselves in. This becomes what you perceive as "normal."  The longer your "normal" exists, be it darkness or light, the more you can't imagine life being any other way.
A person sitting in the dark is not necessarily happy about it, but they are comfortable with their surroundings. So they justify their darkness, rather than turning on the light, which would involve getting out of the chair and flipping the switch.  A very simple action, but it does involve SOME effort.
Likewise, a person outside the church may not feel as though they are missing anything that Christianity can provide. A person walking in the light of Christ knows what the others are missing. However, what we as Christians need to remember is that sharing the gospel with somebody against their will is like flipping on a 100-watt bulb in a dark room. The light of Truth can burn your brain just like a sudden flip of a light switch can burn your eyes.
That is why so many people reject the gospel when they first hear it. It really has nothing to do with "logic and reason;" it is simply too much of a shock to the system for them to absorb.
We forget that for someone in the dark, there is actual pain involved with coming into the light for the first time. The pain goes away, and is replaced by a clearer understanding, but you don't instinctively know that when you're experiencing the pain.
Meanwhile, it should also be noted that those in the light actually have the same problem with being comfortable. Christians can get so used to the light, that we forget what it was like in the darkness, where we all began.
We can also get comfortable where we are and forget that we were called into the light for a purpose.  Our primary job is to flip on the light switch for other people sitting in the dark. This also involves effort and change—a change of attitude toward the people in the dark.
I think Paul said it best in his letter to Titus:
At one time we too were foolish, disobedient, deceived and enslaved by all kinds of passions and pleasures. We lived in malice and envy, being hated and hating one another. But when kindness and love of God our Savior appeared, he saved us, not because of righteous things we had done, but because of his mercy. (Titus 3:3-5a)
That sounds like my life in a nutshell. No one saved me by arguing me into heaven. I did not save myself by simply deciding to "be good." Jesus Christ chose to save me, because that is who He is, and that is what He does.
If I were to walk into a dark room now, I might stub my toe, but I could sit with an inhabitant of the darkness and talk to them about my own previously dark room. I could share that the only way I was able to light up my room was by first acknowledging that it was dark.
And who knows? By God's mercy and grace, they might ask me to help them find the light switch. At the very least, they will know there's a switch that needs flipping.