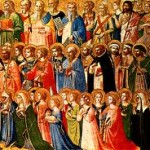 saint n.
1. (Christianity / Ecclesiastical Terms) a person who after death is formally recognized by a Christian Church, esp the Roman Catholic Church, as having attained, through holy deeds or behaviour, a specially exalted place in heaven and the right to veneration
2. a person of exceptional holiness or goodness
3. (Christian Religious Writings / Bible) (plural) Bible the collective body of those who are righteous in God's sight
vb.
(Christianity / Ecclesiastical Terms) (tr) to canonize; recognize formally as a saint
[from Old French, from Latin sanctus holy, from sanc?re to hallow][1]
The Bible refers to any believer in Jesus Christ as a "saint."
But to be a "Saint," you have to have the stamp of approval of a specific group of 123 religious leaders of the Catholic church, now known as the Congregation for the Causes of Saints, through the process called canonization,[2] which generally goes like this.
First, a Postulator investigates the candidate's life at their local diocese, the district under the care of a bishop, at least five years after the candidate's death (lately, Mother Teresa and Pope John Paul II have gotten the fast track, however).  At this stage, candidates are referred to as "Servants of God."
The formal argument for sainthood, called the prositio, contains the Servant of God's life story (informatio) and documents and testimonies (summarium).  After the prositio is approved, the Pope bestows the title of "Venerable."
A Martyr can go directly from here to Blessed, a process known as beatification.  For others, a miracle is required, either performed by the candidate during his or her lifetime, or through posthumous intercession.
In the past, this "apostolic phase" involved the Postulator pleading the case again, while a Promoter General of the Faith, also known as the Devil's Advocate (hence the term), would provide the argument against canonization.  The role of the Devil's Advocate was done away with in 1983 when Pope Paul VI streamlined the canonization process.[3]
For canonization, a second miracle is required.  The most common miracles cited are medical in nature.  Other alleged supernatural events, such as visitations from the Virgin Mary, stigmata, levitation, bilocation, etc. are frowned upon by the papacy, as they are considered easy to fake.[4]
The canonization process is lengthy, expensive and convoluted.  In some cases, it can even take centuries.  In his book Making Saints: How the Catholic Church Determines Who Becomes a Saint, Who Doesn't, and Why, Kenneth L. Woodward estimates that Mother Katharine Drexel's 36-year cause for canonization cost over $1 million.
All this to say that a great deal of time, effort and money go into the expedition of declaring someone to be officially in heaven and "entitled to public veneration and capable of interceding for people on earth."
"So what's the problem?" you may ask.
The problem is that none of this is necessary.  As it is written:
Only, as before the Spirit comes to the aid of our weakness; when we do not know what prayer to offer, to pray as we ought, the Spirit himself intercedes for us, with groans beyond all utterance:  and God, who can read our hearts, knows well what the Spirit's intent is; for indeed it is according to the mind of God that he makes intercession for the saints. (Romans 8:26-27 Knox)
And also:
Who shall bring any charge against God's elect? It is God who justifies.  Who is to condemn? Christ Jesus is the one who died—more than that, who was raised—who is at the right hand of God, who indeed is interceding for us. (Romans 8:33-34 ESV)
In other words, your prayers to God the Father are carried by God the Holy Spirit directly to Jesus (God the Son), who intercedes DIRECTLY WITH HIS FATHER!  No gatekeeper, no secretary, no calling ahead for an appointment.  Straight into the Throne Room with no red tape!
So naturally, this raises the question: If all believers in Christ have a direct hotline to the living God, then why do Catholics insist on praying to dead people?  God wouldn't even hear a prayer that was offered to someone else, would he?
Actually, the evidence would seem to indicate otherwise.  Here is one example to which I can personally testify.
A devout Catholic couple in the area where I live had been married, and childless, for seven years.  The wife was told that she was barren.  Rather than accept that fate, she and her husband prayed fervently to St. Gerard, the patron saint of unborn children, to intercede.  Fourteen kids later, one might say that their prayers were very effective indeed.
This would seem to imply that a prayer offered in sincere faith, the best way one knows how to pray, is honored by God.  Therefore, who am I to tell a Catholic praying to a saint that they're "doing it wrong"?
No, my problem isn't with the praying.  My problem is the superciliousness of the church leaders in their authoritative exaltation of people to sainthood in the first place.
Now I suppose you could argue that it's better to be judgmental in a positive sense, by officially declaring them to be in heaven, than the alternative—condemning them to hell.  However, in either case, you can't avoid the reality that judgment of ANY soul's eternal destiny and reward, or lack thereof, belongs to God alone.
What arrogance to think that a group of human beings is qualified to judge what rank people have in heaven and what rights and special abilities they have when no one, besides Jesus Himself, ever came down from heaven!
But I suppose it makes sense that a group that has declared itself "infallible[5]" would consider itself worthy to judge such matters.  It appears the Pope, the Bishops, the General Council and all the Magisterium didn't get the memo that nobody's perfect.
But back to the saints.  I find it spellbindingly ironic that the "infallible" church does not actually consider those it canonizes to be infallible.
Just "good enough," I guess.
(So how good is "good enough?"  Stick around for Part 8–Good Works)