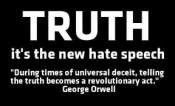 Be clearheaded. Keep alert. Your accuser, the devil, is on the prowl like a roaring lion, seeking someone to devour.  (1 Peter 5:8 CEB)
All of humanity has a common enemy—Satan, the accuser.  The enemy's primary goal has always been our destruction, but he has been busy developing some new tactics.
First to review, you'll remember that in Part 3, we identified "righteousness" as being a right standing with God the Father, which is made possible only through a trusting relationship with His Son, Jesus.  Those with whom the enemy succeeds in denying this opportunity for righteousness will nevertheless still crave it.
However, since they have allowed themselves to be cut off from God's saving grace, they are only able to manufacture a false perception of righteousness.  In their desperate attempt to elevate themselves in their own minds, they find themselves compelled to disparage others in order to make that possible.
The enemy facilitates this process by helping those under his influence categorize people into groups and label them.  Then he directs his unwitting followers to abuse the people in those groups by treating them unequally and criticizing them based on their differences.
Over time, these blanket condemnations become a habit, and hatred develops.  If left unchecked by correction, it is possible for this hatred to swell into an epidemic of ignorant bigotry.  This bigotry will then be projected toward the groups of people to whom they are trying to maintain their sense of superiority.
Combating this is a struggle we all share.  And it is indeed a daily struggle.  Seeing other people as individual human beings, instead of part of a labeled subset of humanity, requires a generous helping of both humility and critical thinking.
Knowing this, our enemy imparts his unwary abettors with a liberal dose of arrogance, which suppresses all traces of humility and artificially inflates their perception of their own intellect, eliminating the prospect of any critical thought taking place.
This is where the enemy plays to his greatest strength.  He advises his impressionable followers, "If you can't convince 'em, accuse 'em!"
And this is how it plays out.
When one of these people attempts to engage a Truthseeker in debate, he quickly discovers the futility of this venture, since the primary objective for Truthseekers is to end arguments, not win them.  Since the arguer finds that he cannot claim the logical high ground, he will then attempt to lower the ground beneath his opponent by attacking his character.
But here is the twist!  Since unwarranted character assassination would make him guilty of judgmentalism, he must first deflect his own guilt by accusing the Truthseeker of being judgmental himself, thereby forcing him into a defensive position.  With any luck, the Truthseeker will take the bait, lower himself into the argument, and thus become that which he has already been accused of being.
On the other hand, a mature Truthseeker will not take the bait, but will simply hold fast to the Truth, and not change course.
When the arguer sees that his attempts at both logic and character assassination have failed, he plays the only card left in his deck by attacking Truth itself.
He does this by labeling the Truth "hate speech."
DEFENSE OF TRUTH DN= HATE SPEECH
The irony of this concept of "hate speech" is that the people most commonly accused of hate speech are in actuality the ones most commonly on the receiving end of it.
For centuries upon centuries, Christians have put their trust in the eternal God, in his indisputable and unchanging Word in which He is revealed, and in His universal promises and plan for all of mankind.  In a world where people follow after every wind of change, no matter how ludicrous, we build our lives on the solid rock of eternal unchanging Truth, passing it down from generation to generation.
But instead of a fixed and eternal rock, our faith is now portrayed by our degenerate culture as an ignorant and hateful tradition.  We are even demonized for faithfully carrying out our most important responsibility as parents, the passing on of our faith to future generations, with the charge of "indoctrinating" our own children!
If parents should not be the ones most responsible for helping to frame the basic worldview and shaping the character of their own children, then who should?  The enemy has some ideas about that.
(And you'll hear all about them if you come back for Part 9—Brainwashing.)