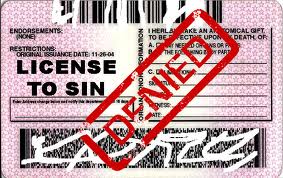 "All things are allowed," you say. But not all things are good. "All things are allowed." But some things don't help anyone. (1 Cor 10:23 ERV)
We are big on freedom in this country, aren't we?  We have a Bill of Rights in our constitution guaranteeing us freedom of speech, the press, assembly, religion and petition.  When our soldiers go off to war, we are told that they are "fighting for our freedom."
It's in all the songs we learn as kids.  America is the land of the FREE and the home of the brave.  We are proud to be Americans where at least we know we're FREE.  From every mountainside, let FREEDOM ring.
Christians are also fond of the words "free" and "freedom."  We also have phrases that we repeat or sing in songs, such as:
Where the spirit of the Lord is, there is freedom.
If the Son has set you free, you are free indeed.
My chains are gone; I've been set free.
Nevertheless, Christians can easily fall into the same trap as the rest of the world in the sense of abusing personal freedom at the expense of the freedom of another.
FREEDOM DN= LICENSE TO DO WHATEVER WE WANT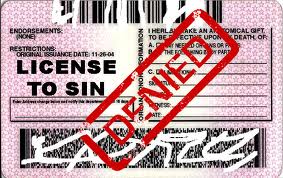 Within a generation of Jesus' death, both Paul and Peter were dealing with this problem in the early Church:
It is absolutely clear that God has called you to a free life. Just make sure that you don't use this freedom as an excuse to do whatever you want to do and destroy your freedom. Rather, use your freedom to serve one another in love; that's how freedom grows. For everything we know about God's Word is summed up in a single sentence: Love others as you love yourself. That's an act of true freedom. If you bite and ravage each other, watch out—in no time at all you will be annihilating each other, and where will your precious freedom be then? (Galatians 5:13-15 (MSG)
Make the Master proud of you by being good citizens. Respect the authorities, whatever their level; they are God's emissaries for keeping order. It is God's will that by doing good, you might cure the ignorance of the fools who think you're a danger to society. Exercise your freedom by serving God, not by breaking the rules. Treat everyone you meet with dignity. Love your spiritual family. Revere God. Respect the government. (1 Peter 2: 13-17 MSG)
Do you see the tie there?  Freedom = service.  Some translations actually use the word "slave."
Now for Americans, that notion can be jarring.  For Americans of African descent in particular, it can feel like a harsh slap in the face.  After all that this country and its people have gone through to win freedom, God wants us to be slaves again?
The original Greek word in Peter's letter is doulos, which does mean slave, but not in the way we Americans think of it.  When we hear the word "slave," we think of forced labor.  In other words, a slave's status is determined by the work the slave does and the conditions under which he is compelled to do it.
A doulos, on the other hand, is also a bondservant, or one permanently bound and subservient to a master; however, their slave status is determined not by their work, but by their relationship to their master.
The implication then, made by both Peter and Paul, is that to be a bondservant of Christ, one must no longer be a slave to sin.  After all, as Jesus Himself said, "No one can serve two masters (Matthew 6:24a NIV)."
Furthermore, in this context a doulos is a VOLUNTARY bondservant.  We are born slaves to sin, but we CHOOSE to be "slaves" for Christ.  The only way to be in a position to make that choice is to have first been freed from the grip of sin in our lives.  A slave cannot free himself; he can only be freed by the master.  And the Master said this:
A new command I give you: Love one another. As I have loved you, so you must love one another.  (John 13:34  NIV)
And also this:
Truly I tell you, whatever you did for one of the least of these brothers and sisters of mine, you did for me. (Matthew 25:40b NIV)
Therefore, serving God and serving other people are actually one and the same.  So being a doulos to Christ means being a doulos to the world as well, but to its people, not its philosophies.
As no one can serve two masters, and as it is impossible to serve both Christ and our own sinful desires, so it is also impossible to simultaneously serve the world while doing whatever we want.
This is the reason that no one is justified by their works alone apart from having been freed by the Master, with whom they have a relationship.
Which brings up another DN=.
(Which will be covered in Part 3–Righteousness)