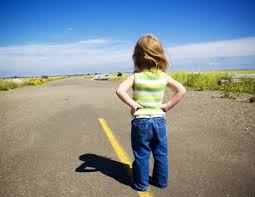 "I have the right to do anything," you say—but not everything is beneficial. "I have the right to do anything"—but I will not be mastered by anything. (1 Corinthians 6:12 NIV)
 I'm free to choose who I see any old time
I'm free to bring who I choose any old time
Love me hold me love me hold me
I'm free any old time to get what I want
"I'm Free" Mick Jagger/Keith Richards
One of the main functions of a father is to establish and enforce boundaries for his children.  The intent of setting these boundaries is to protect his children, because he knows more than they do.
There is no condemnation in this, only a sense of love and protection.  The child picks up on this, and remains content within the security of the boundary.
Now if an earthly father can manage to set healthy boundaries in love, how much more effective and useful are our heavenly Father's boundaries!  Would it not stand to reason that an omniscient God, who knows every possible outcome of every possible choice we could make, would know what's good for us and what isn't?
The most obvious example of this is the 10 Commandments.  A lot of people are put off by them because of the "Thou shalt not" tone that most of them have.  So why would a loving Father God put such restrictions on the freedom of His children?
One word—consequences.
LIBERTY DN= FREEDOM FROM CONSEQUENCES
Some consequences of violating God's boundaries are obvious.  Take for example "Thou shalt not commit adultery."  If you break that commandment, the most obvious and immediate consequence is generally the breakup of a marriage.
Long-term and indirect consequences are difficult to predict, however.  We can't know for certain how young children will be affected by the divorce—how they will cope with the sense of loss, how they will develop socially as they grow, what baggage they might carry into their future relationships and marriages.
God sees every potential negative consequence, and wants to protect us from them.  Nevertheless, our nature instinctively reacts to any kind of boundary as a restriction on our freedom.  Christian or not, nobody likes being told what to do, or to have their "freedom of choice" taken away.
But when you stop to think about it, this is a ridiculous notion.  NOBODY can take away your freedom of choice, not even God.  He's the one who gave it to you in the first place.
Boundaries
God doesn't set boundaries to take away our choice.  He places them there to assist us in making the right choice, because he knows which choices will have good consequences and which will have bad consequences.
However, somewhere along the line our culture developed a callous disregard for sin, or crossing God's boundary lines, and its consequences.  Our culture has been brainwashed to believe that God's boundaries, as set forth in the Bible, are out of date and out of touch with progress.
Since the Bible is God's Word, and therefore our most definitive written source of Truth, this Truth gets dismissed along with the Bible.  Inside this moral vacuum, people get the idea that they can create their own truth—a moving target that is relative to whatever suits their whims at any given moment—and anything contrary to that amorphous worldview then becomes a violation of their civil liberties.
Only here's the problem.  Since Truth is universal, and it's found in the same place where God's "restrictive" boundaries are, then it would follow that the consequences of crossing those boundaries are also universal.
The consequence of mentally turning sin into civil liberties is that to do so, the concept of civil responsibility is totally abandoned.  You can't be "free to do what you want any old time" and be your brother's keeper at the same time.
Fortunately, God has a way of evening things out.
(To find out how, come back for Part 13–Fair Play)