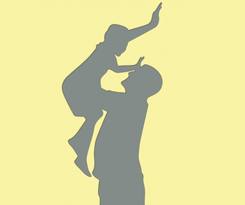 PR

OVIDE
Generally, the first thing that comes to our minds when we think of PRoviding for our families is our jobs.  But there is so much more to PRoviding than bringing home a paycheck. 
Children are more concerned with being loved and led than with whether or not the bills are getting paid.  The family's finances aren't their concern, so they don't think about it. 
What children need to know is that their dad is in control.  They need to know he's the Man with the Plan and he cares for them deeply. 
Let me be clear on what I mean by "in control."  This does not mean, "controlling."  Dads, how do you know when you've crossed the line?  If you have to tell your children that you're in charge, that's a pretty good indicator that you aren't.
Dads, if you want your sons to grow into men of character, your first PRiority as fathers is to show them what that looks like. 
Say what you mean, mean what you say and do what you say you are going to do.  Do not be wishy-washy with your sons, or they will not have confidence in your promises.  Do not be lax with your discipline, or they will think they can get away with anything.  And most importantly, FOLLOW THROUGH with whatever you say you are going to do. 
One of the most vital things that we must do as fathers is to throw off EVERYTHING that hinders us from following through on our words.  Children are experts at making it look like they are ignoring us, but they are always watching.  Not only are they more likely to do what you do rather than what you say, but they are more likely still to NOT do what you DON'T do. 
But it's not all about discipline, of course.  Children do need to be led, but they also want to be loved.  This is especially true for the girls.
Face it dad, your little princess is going to grow up someday.  Chances are she's going to look for somebody just like you to marry.  So ask yourself—are you the kind of guy you want your daughter to bring home? 
If that doesn't get your attention, how about this?  There are few things in this life a daughter wants more than her daddy's approval.  If she gets that, she will grow up secure and confident, knowing that she can be loved for who she is.  If she doesn't, she will do whatever she can to create an artificial feeling of being loved.  (Guys, if you're not catching my drift, I've got two words for you: back seat.)
Finally, as the spiritual leaders of our home, the most important thing we can PRovide for our children is knowledge of our faith.  Dads, if children aren't learning about God, the Bible or the Christian life from you, there's a good chance they're not learning it at all. 
Fathers, the integrity of your children depends on what you PRovide and how you PRovide it.
(Next, Part 5—PRactice Grace)