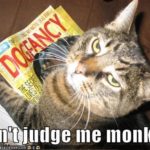 Those people are on a dark spiral downward. But if you think that leaves you on the high ground where you can point your finger at others, think again. Every time you criticize someone, you condemn yourself. It takes one to know one. Judgmental criticism of others is a well-known way of escaping detection in your own crimes and misdemeanors. But God isn't so easily diverted. He sees right through all such smoke screens and holds you to what you've done.
 You didn't think, did you, that just by pointing your finger at others you would distract God from seeing all your misdoings and from coming down on you hard? Or did you think that because he's such a nice God, he'd let you off the hook? Better think this one through from the beginning. God is kind, but he's not soft. In kindness he takes us firmly by the hand and leads us into a radical life-change.
 You're not getting by with anything. Every refusal and avoidance of God adds fuel to the fire. The day is coming when it's going to blaze hot and high, God's fiery and righteous judgment. Make no mistake: In the end you get what's coming to you—Real Life for those who work on God's side, but to those who insist on getting their own way and take the path of least resistance, Fire!
 If you go against the grain, you get splinters, regardless of which neighborhood you're from, what your parents taught you, what schools you attended. But if you embrace the way God does things, there are wonderful payoffs, again without regard to where you are from or how you were brought up. Being a Jew won't give you an automatic stamp of approval. God pays no attention to what others say (or what you think) about you. He makes up his own mind.
 If you sin without knowing what you're doing, God takes that into account. But if you sin knowing full well what you're doing, that's a different story entirely. Merely hearing God's law is a waste of your time if you don't do what he commands. Doing, not hearing, is what makes the difference with God.
Romans 2: 1-13 The Message
Sorry for the long quote there, but I wanted to point out two phrases in the very same passage: "Judgmental criticism" and "righteous judgment."  Both phrases have forms of the word "judge" in them, but they are very different.
It should be clear from the context that righteous judgment belongs to God alone, for God alone is righteous by nature.  Because of His unattainable righteousness and holiness, He alone has the authority to judge in the sense of meting out justice for our sin.
As we have talked about in Part 3, righteous DN= self-righteous.  The only way that a person could attempt to judge another's destiny would be from a position of self-righteousness.
But as we have also discussed, self-righteousness is unrighteousness.  How then can the unrighteous judge anyone?  Indeed, they have already been judged themselves, not only for the sins they themselves have committed, but by the greater sin of attempting to push God out of the Judgment Seat which is rightfully His.
This is the difference between judgment and being judgmental—it's all about who is passing the judgment.  God is qualified and has the authority to judge sin.  We aren't, and we don't.
EXERCISING JUDGMENT DN= BEING JUDGMENTAL
Although self-righteous, judgmental criticism is a problem for all people, the distinction between God's judgment and man's judgmentalism is relatively clear.
What is not as clear as it needs to be, however, is the difference between judgmentalism and exercising sound judgment.
My son, do not let wisdom and understanding out of your sight, preserve sound judgment and discretion. Proverbs 3:21 NIV
One of the complications of the English language is words with multiple meanings.  "Judgment" is one of those.
God will sit in judgment of us all; therefore, we should not stand in judgment of one another.  Yet we are to preserve sound judgment?  How does that work?
It's really not that difficult when you stop to think about it.  If your judgment is toward a person and stems from motives of criticism and self-righteousness, then you are being judgmental.  This is the bad one.
However, if your judgment is focused toward an action or situation, and is based upon wisdom, common sense or sound reasoning, then this is the good kind.
Where the problems arise, is when a spirit of offense prevents the person being judged from distinguishing between the two.
Good judgment vs. bad judgment
If someone attempts to shame you for your sin, make you feel like a bad person, tells you you're going to Hell, calls you a name, places a group label on you, or blames you for something for which you are not directly responsible because of your association with that group, then that person is being judgmental, and your offense is justified.
If, however, the other person is attempting to help you correct your behavior respectfully, sharing from his or her own experience a bad result from their having done something similar, calling you by your own name, looking you in the eye, emphasizing the solution instead of the problem, but most importantly, is focusing on the behavior without attempting to analyze your motives or your character. . .then you need to work past the emotional reaction of offense and listen to what you are being told.
Chances are this person knows something you don't.  And they are exercising sound judgment, without being judgmental, by telling you that.
(Coming up next, STORYTIME! Going to do something a little different for Part 7–Hatred.)