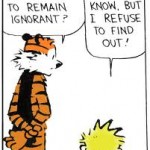 As a writer, naturally I deal with words on a regular basis.  As such, I tend to analyze words more closely than the average person does.  A pet peeve that I share with many writers is when words are commonly misunderstood and subsequently misused.
The misused word that's bugging me more than any other these days is "ignorant."
The rampant misuse of this word generally occurs within the realm of opinions, as in, "You do not agree with my opinion; ergo, you are ignorant." (See "Entitled to Our Own Opinions?" for more on this topic.)
The word "ignorant" is derived from the Latin ignorare, meaning, "not to know."  Ignorance is a lack of knowledge; therefore, an ignorant person is someone in the state of being where knowledge, instruction, training, etc. is not present or has not occurred.
Since ignorance is a lack of knowledge, we may liken it to an empty glass.  There's nothing flawed in the glass itself; it just doesn't have any water in it.
So an ignorant person is the one carrying the empty glass.  There is nothing wrong with this person's mind; they simply do not know what they do not know.  The one thing they do know, however, is that their glass is empty, and they are thirsty.  As a wanderer in the desert is thirsty for water, an ignorant person thirsts for knowledge and Truth.
Now when you're thirsty, what do you do?  You get a glass and either go to the sink or the refrigerator and get a drink.  You know where to go to get what you are lacking.
It's different when you're dealing with a thirst for knowledge though.  The more ignorant you are, the more you don't know what you don't know.  You know that you need knowledge, but you may not know where to find it.  Life's not as simple as getting the pitcher out of the fridge and pouring yourself a glass of water.
No, in life, someone else is holding the pitcher.  If the empty glass represents ignorance, then the pitcher represents knowledge.
Ignorance is solved by the person with the empty glass finding the person with the pitcher and asking them to pour into their glass.  This is the process known as. . .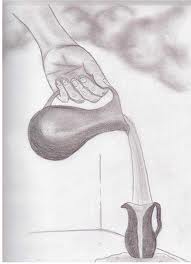 Education!
When pouring water out of a literal pitcher, the pitcher gets emptier as the glass gets fuller.  With the pitcher of knowledge, however, the pitcher loses nothing by pouring out.  Not only is ignorance overcome by education, but the educated person (no longer ignorant) has now become equal to the educator with the pitcher, at least in regards to the specific knowledge that was shared.
There is a catch to this education process, however.  If you were getting yourself a drink out of the fridge, you know what you are pouring yourself—water, juice, milk, soda, etc.  You can see what is in the containers, or at least you can read the labels.
The pitcher of knowledge is trickier though.  Because you don't know what you don't know when you are truly ignorant, you also don't know what's in the pitcher.  You know you are thirsty, your glass is empty, someone is offering you a drink, so you accept.
However, due to your ignorance, you don't have any sure way of knowing if what's in the pitcher is good for you or not.  You may end up getting an education you hadn't bargained for.
(To be expounded upon in Part 2–Experience)