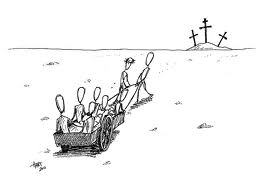 THE PRIZE
            So to sum up from the previous six posts, the most effective solution to Christianity's PR problem is for the individuals within the church to live lives of service.
            We PRaise our God, PRotect our spouse's hearts, PRovide for our children, PRactice grace with our extended families and PRove to the world that Jesus Christ is the Lord of our lives by visibly living out or faith. 
            But let's face it, all that service can be tiring.  If we put too much emphasis on pouring ourselves out for others, it can be all too easy to neglect the refilling process.
            Fortunately, we don't need to look any farther than the Ten Commandments to find out how to solve this problem:
Six days you shall labor and do all your work, but the seventh day is a Sabbath to the Lord your God.  On it you shall not do any work . . . (Exodus 20:9-10a NIV)
God gave us the Sabbath for a reason.  He knew we would need the rest.  To paraphrase Stephen Covey in The Seven Habits of Highly Effective People,   you can't sharpen your saw if you never stop sawing.
            Now I don't want to get into the legalistic argument of what constitutes "work."  Keeping the Sabbath is not about following the letter of the law.  That's religion.  Jesus came to set us free from that.
            The point is that we were created to love God, love one another and serve the world.  We can only do that effectively if we take time to chill out and recharge.  With the concept of the Sabbath, God gave us a simple template to follow to make sure that we stayed refueled in order to carry out His ministry effectively.
            Paul knew that he would need this refueling when he wrote:
…Forgetting what lies behind and straining forward to what lies ahead, I press on toward the goal to win the [supreme and heavenly] prize to which God in Christ Jesus is calling us upward.  (Philippians 3:13b-14 AMP)
If life were all about pressing on, with no time for resting, we would burn out.  Thus, we would not complete our mission and win the PRize.
                So what is this PRize of which Paul speaks?  It can't be the salvation of our souls.  As we already covered back in Part 5, we are saved by grace, God's unmerited favor, and not through our own efforts.  In other words, we don't earn our golden ticket to Heaven by "straining forward" and "pressing on."
                So what is the PRize then?  Would you believe, more rest?
                I'm not talking about the Sunday-afternoon-nap-on-the-couch-with-the-ball-game-on-after-killing-the-all-you-can-eat-buffet-after-Church kind of a rest though.  This PRize is much bigger:
So then, there is still awaiting a full and complete Sabbath rest reserved for the [true] people of God; For he who has once entered into [God's] rest also has ceased from [the weariness and pain] of human labors, just as God rested from those labors peculiarly His own.  (Hebrews 4:9-10 AMP)
                The PRize that I am pressing on toward is to hear my Savior say, "Well done, good and faithful servant.  Come and enter your master's happiness.  Take the free gift of the water of life and enter into my rest."
                To that end, I will continue pressing on—toward the PRize, and toward His rest.  I'm glad to have you along for the ride.