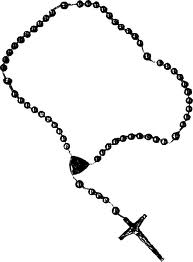 Most folks recognize this picture at the left as a rosary.  A lot of non-Catholics think it's supposed to be worn as a necklace (pause for the Catholics to shudder), but the beads are actually a means of counting prayers.  Which prayers?
A complete rosary consists of the following: Saying the Apostle's Creed, the Our Father, three Hail Marys, the Glory Be to the Father, announcing the first of five Joyful Mysteries, another Our Father, 10 more Hail Marys, another Glory Be to the Father, announce the second Mystery, another Our Father, 10 more Hail Marys, another Glory Be to the Father, announce the third Mystery, another Our Father, 10 more Hail Marys, another Glory Be to the Father, announce the fourth Mystery, another Our Father, 10 more Hail Marys, another Glory Be to the Father, announce the fifth Mystery, another Our Father, 10 more Hail Marys, another Glory Be to the Father, then top it off with a Hail Holy Queen.
Whew!
Except you're not done yet.  That's only your FIRST trip around the Rose Garden.
Now do that whole sequence three more times with the Luminous Mysteries, the Sorrowful Mysteries and the Glorious mysteries.
The idea here is that while you are vocalizing the prayers above, you are inwardly meditating on the Gospel.  Why don't you go ahead and give that a try?  I'll wait.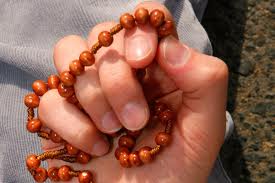 How far did you get before you asked yourself, "WHY am I doing this?"  Did repeating these prayers over and over aid your concentration, or was it more like this:
 And when you pray, do not heap up phrases (multiply words, repeating the same ones over and over) as the Gentiles do, for they think they will be heard for their much speaking.  (Matthew 6:7 Amplified)
Ironically, that is the verse that comes immediately before the Our Father, one of the prayers of the rosary.
So how did this whole rosary thing get started anyway?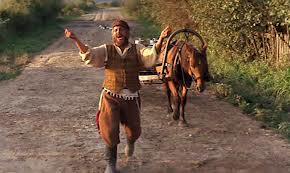 Thank you, Tevye.
If there is one characteristic that distinguishes Catholicism, it's tradition.
For a traditionalist like myself (I do still consider myself one), Catholicism is very comfortable.  It's reliable in that you know it's never going to change (until it changes, that is).  There is a certain comfort in being part of something that has existed continuously for 2000 years—at least four times as long as any Protestant denomination.  In fact, when I was Catholic, that history in and of itself was what I hung my hat on to back up any argument against Protestantism.
However, as it turns out, "We were here first" makes for pretty poor apologetics.
In order to effectively defend your faith, you have to first know WHY you believe what you believe.  If all you have to fall back on is the status of being part of a group that has been around a long time, with no personal connection to the SOURCE of your faith, can such a faith sustain you?
As I mentioned before, I knew about Jesus when I was a practicing Catholic, but I didn't really know Him.  In the same way, I knew about the Holy Spirit, but I didn't have an ongoing day-to-day relationship with Him either.  My faith stayed in the shallow end, because I was not feeding myself with the Word of God.
As a result, I was faithful churchgoer, but a lousy Christian.
Without a scriptural frame of reference, I had no way of knowing about God's forgiveness.  As such, I did not comprehend the gravity of the prayer-within-a-prayer contained in the Our Father, "Forgive us our trespasses, as we forgive those who trespass against us."
In other words, you can't forgive others as Jesus forgave you until you know that you are forgiven, and why, and how.
All I had in my corner was tradition, with no understanding of its source, its history or its significance.  As I learned later, tradition can be a trap.
Much of today's Catholic doctrine was affirmed in the seventh session at the Second Council of Nicaea in 787 AD.  Here is just one interesting tidbit from that doctrinal definition (I have edited for length, not content):
. . . we who are those responsible for the priesthood everywhere, in order that the divinely inspired tradition of the catholic church should receive confirmation by a public decree.  So having made investigation with all accuracy and having taken counsel, setting for our aim the truth, we neither diminish nor augment, but simply guard intact all that pertains to the catholic church. . . One of these is the production of representational art. . .  Indeed, the honour paid to an image traverses it, reaching the model, and he who venerates the image, venerates the person represented in that image. .  . Therefore all those who dare to think or teach anything different, or who follow the accursed heretics in rejecting ecclesiastical traditions, or who devise innovations, or who spurn anything entrusted to the church (whether it be the gospel or the figure of the cross or any example of representational art or any martyr's holy relic), or who fabricate perverted and evil prejudices against cherishing any of the lawful traditions of the catholic church, or who secularize the sacred objects and saintly monasteries, we order that they be suspended if they are bishops or clerics, and excommunicated if they are monks or lay people. . .
If anyone does not confess that Christ our God can be represented in his humanity, let him be anathema.[1]
If anyone does not accept representation in art of evangelical scenes, let him be anathema.
If anyone does not salute such representations as standing for the Lord and his saints, let him be anathema.
If anyone rejects any written or unwritten tradition of the church, let him be anathema.[2]
Two things are seriously wrong with this decree.  First, it completely negates the Second Commandment, which forbids graven images:
You saw no form on the day God spoke to you at Horeb from out of the fire. Remember that. Carefully guard yourselves so that you don't turn corrupt and make a form, carving a figure that looks male or female. . . No carved gods of any size, shape, or form of anything whatever, whether of things that fly or walk or swim. Don't bow down to them and don't serve them because I am God, your God, and I'm a most jealous God. I hold parents responsible for any sins they pass on to their children to the third, and yes, even to the fourth generation. But I'm lovingly loyal to the thousands who love me and keep my commandments. (Deuteronomy 4:15-16, 5: 8-10  The Message)
Second, by declaring that its tradition supersedes the authority of scripture, the Magisterium has promoted itself from the caretakers of God's church to the architects of His judgment.
So if tradition is all you know as a Catholic, as it was for me, there's not much room for being transformed into the image of Christ, is there?
[1] Anathema remains a major excommunication which is to be promulgated with great solemnity. . . In passing this sentence, the pontiff . . . takes his seat in front of the altar or in some other suitable place, amid pronounces the formula of anathema which ends with these words: "Wherefore in the name of God the All-powerful, Father, Son, and Holy Ghost, of the Blessed Peter, Prince of the Apostles, and of all the saints, in virtue of the power which has been given us of binding and loosing in Heaven and on earth, we deprive N– himself and all his accomplices and all his abettors of the Communion of the Body and Blood of Our Lord, we separate him from the society of all Christians, we exclude him from the bosom of our Holy Mother the Church in Heaven and on earth, we declare him excommunicated and anathematized and we judge him condemned to eternal fire with Satan and his angels and all the reprobate, so long as he will not burst the fetters of the demon, do penance and satisfy the Church; we deliver him to Satan to mortify his body, that his soul may be saved on the day of judgment."
Gignac, Joseph. "Anathema." The Catholic Encyclopedia. Vol. 1. New York: Robert Appleton Company, 1907. 2 Feb. 2013<http://www.newadvent.org/cathen/01455e.htm>.
[2]
 Tanner, Norman, ed., Decrees of the Ecumenical Councils  Georgetown University Press, 1990
(For another example of the tyranny of tradition, come back for Part 7—Saints)