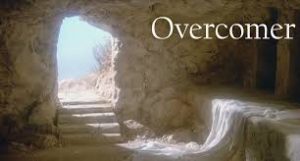 I have told you these things, that in me you may have peace.  In the world you have oppression; but cheer up!  I have overcome the world.  John 16:33 (WEB)
Ever have a day where it seems like the world is just coming down on you and everything seems hopeless?  Ever have about five months in a row like that?  I did.  That's why you haven't heard from me in a while.
It isn't that anything traumatic happened in my life in this stretch of time.  I just ran into an extended dry spell where my faith wasn't keeping up with my circumstances.  Election years in general do that to me, and this has been the worst one ever.
In times like these, we Truthseekers need to get a grip on ourselves (and each other) and simply remember just Who it is that's really running the show, whether or not we are aware of it.
God's goal is never to confound us, but to bring us peace.  Another way to word that would be "confidence."  He wants us to rest assured that He is not only bigger than whatever comes our way, but that our circumstances are all a part of his plan.
There are so many ways that we can learn from adversity.  Sometimes it's a course correction if we are going a way that we should not be.  Sometimes it's to find out that we are really stronger than we thought we were.  But sometimes it's the opposite of that.  Sometimes God allows us to walk through difficult seasons as a means to get us to STOP relying on our own strength and to rely on His instead.
That sure sounds like the right thing to say from a spiritual standpoint, but it sure doesn't feel that way when you're going through it, does it?  I really admire people who hold unswervingly to their faith when going through things like extended illnesses or financial hardships.  I am one who wants things fixed, and fixed NOW, so I can get on with my life.  Trials and tribulations are an obstacle to my plans.
If you think this way, as I often do, that's the indicator that you're getting off track.  Because if you're most concerned about your own plans, then you're not in submission to God.  He knows what's best for us, and more importantly, He knows what's coming next.
Maybe it's just part of being American, but I can get so bent out of shape over my first-world inconveniences.  I can count the major trials I have had in my life on one hand.  They are significant, but they are not a daily occurrence.  We get so spoiled in this country that we forget all too easily that troubles are a normal part of a normal life.
The world can be frustrating.  The people in it can be REALLY frustrating.  However, it is pointless to allow ourselves to be mastered by our frustration.  There will be things in this world that we can not conquer, but Jesus has already conquered everything that ultimately matters.