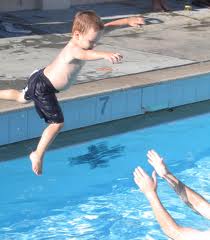 "I tell you the truth, anyone who will not receive the kingdom of God like a little child will never enter it."  (Mark 10:15 NIV)
Responding to God requires seeing things as they really are, even the part you can't see (especially the part you can't see), the way children do.
A child doesn't worry about the same things an adult does.  Children trust that their parents are all knowing, all seeing and all-powerful, and even though that isn't really true, they believe.  In that belief, they feel safe and comforted.  This is what is meant by "faith like a child."
Now some might call this "blind faith," since the children are believing something without questioning it and accepting as real something that isn't.  However, nobody condemns children for believing in their parents.  Indeed, if a child sees a parent fail at too early an age, it is devastating to their emotional health, because they are not yet intellectually developed enough to understand their own limitations.
Therefore, it never occurs to them that their parents might be finite, that their knowledge might be incomplete, that they can be taken by surprise, that they might fail, that they might just. . .not. . .know.
No, nobody would condemn that child for believing in Mommy and Daddy, because they are children and do not know any better.  As they grow, their understanding of the world around them grows, and they figure out that Mommy and Daddy are people just like them.  And later, when they become the Mommy or Daddy, they really figure out how much their parents really didn't know.
So why are people condemned for responding to God with the faith of a child, when that is exactly how Jesus said it should be done?
Well for starters, people who don't know the Bible don't know that's how it is supposed to be done, and you can't condemn them for simply not knowing.
More significant however, is the fact that these people don't know that your spirit does not necessarily grow at the same rate that your body and mind do.  In other words, that faith like a child does not mean intellect like a child.
Children are going to grow older and taller without any effort on their part.  Physical maturity just happens (at least, to whatever extent anything just happens).
Mental maturity requires some input, however.  A child kept locked in a closet all their lives will still grow physically, but they won't learn much.  To learn, you have to be exposed to knowledge.  As you get older and start thinking for yourself more, you become more skeptical of knowledge and you may doubt some things just because they "don't sound right."
Spiritual maturity, on the other hand, is a major workout.  Absolutely nothing will happen to your spiritual maturity unless you make it happen.  If you don't, then even as your body grows, and even as your mind expands, you will still remain a spiritual infant.
(So how do you start on the path to spiritual maturity?  Come back for Part 5–Real/Not Real.)