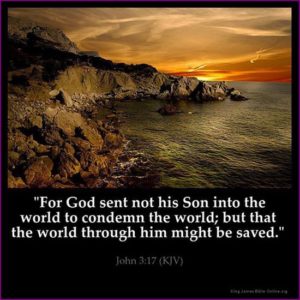 About 20 years ago, my family and I were practicing Catholics. I had been raised in the Catholic Church, but had fallen away at an early age. My wife had converted after our marriage. Her conversion, plus the fact that we were now raising two sons in the church, had renewed my interest in the church and in my own spiritual voyage.
Having grown up either being Catholic or trying hard not to be, I was quite ignorant of other denominations. I was aware that they existed, but their histories, beliefs and the differences between them had no more meaning to me than the differences between channels on television. To me, there was simply Catholic and Not Catholic.
One afternoon, our neighbors, who attended an Assembly of God church, invited us next door to a "small group fellowship." I had no idea what this meant, exactly. I saw a yard full of people I didn't know and their noisy children. I knew they were people that attended the same church, about which I knew nothing.
These folks looked normal enough, but a key difference soon became apparent when a father yelled at his ornery children to "stop behaving like the Canaanites."
It occurred to me that I recognized "Canaanite" as a Bible word, probably a geographical term, but I didn't really know who the Canaanites were or why they were significant. Furthermore, I had no connection whatsoever in my mind regarding how the Canaanites behaved and what parallels there might have been to their behavior and that of this man's children.
In short, I was aware in that moment that I was woefully ignorant in regard to Bible knowledge, and despite the friendly welcome I received from these folks, I felt intimidated—like they were on some totally different spiritual plane than I was.
About this time, three of the ladies came over to us and asked me if we had a home church, knowing that we were not from theirs. I told them that we were attending the local Catholic church. They looked at each other with what seemed to be delight, and one of them innocuously exclaimed, "Oh, our pastor used to be Catholic too until he got saved!"
It was clear from her tone that she meant no offense whatsoever from this remark. Nevertheless, I remember clearly that the first thought that went through my mind was, "Saved? From what?"
What my Catholic ears heard was that their pastor used to be just like me, but then he was saved from the error, the foolishness, the madness that is Catholicism. Needless to say, I found that offensive.
We stayed for the rest of the meeting, and I tried, and I think succeeded, to be gracious to the group for their hospitality, just as they were gracious about my biblical ignorance.
Even so, I just could not get past that word, "saved."
Saved from…what?
Looking back on that afternoon 20 years later, now as a Baptist-lite Protestant, I am much more conscious of how we, as evangelical Christians, can unwittingly come across to others with our churchy words.
It is so easy for us to fall in to the trap of seeing ourselves as "saved" and everyone else as "lost." This mindset may be Biblically factual and theologically sound, but it fails to acknowledge the reality that "lost" people don't know they're lost. Therefore, to hear from someone they do not even know that they need to be "saved" is offensive to them.
(To be continued in Part 2: Light and Darkness)