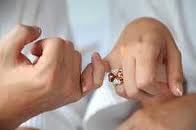 PROTECT
Men, short of your relationship with God, your marriage is the most important thing in your life.  If you disagree with that statement, stop right now and make a list of everything you can think of that's more important. 
OK, now take that list to your wife and say, "Honey, I love you, but I love these things more."  Then read the list to her. 
(What?  That's a bad idea?  I agree.  Read on.)
The reason marriage is so important is that a marriage is the closest that a man and a woman ever come on this earth to being like God.  God is one, yet exists in three distinct persons: the Father, the Son and the Holy Spirit.  Each personality in this Holy Trinity is unique, distinct, and has His own function, yet they are one, completely unified in purpose.
Likewise, in a Christian marriage, the man and woman remain a man and woman, with their distinct personalities and functions, yet they no longer serve themselves, but each other.  With their shared faith as the bond that holds the marriage together, the trinity of husband, wife and Holy Spirit echoes the unity of the Holy Trinity.
Also, as the Holy Trinity is responsible for the creation of all life, so the trinity of husband, wife and Holy Spirit bring forth new life with the birth of their children. 
This is the closest we will ever come to appropriating the creative power of God.  As such, this is why both life and the marriage through which it is created are sacred.
The primary role for a husband toward his wife is that of Protector.  That notion frequently rubs the womenfolk the wrong way these days, as our culture supports the notion of independent women who "don't need a man." 
Nevertheless, every strong independent woman started out as a frightened little girl, looking to her daddy for protection.  When a father makes clear to his daughter that he is there to protect her and take care of her, she grows up secure and confident (more on that in the next post).
The main purpose of the husband is to take over the protective role of the father when the woman no longer has need of it.  This is the meaning behind the father giving the bride away at a wedding.  He is saying, "It's your turn now.  Take care of my daughter."
The protective role is now different, however.  Rather, a husband is charged with protecting his wife's heart.  She has put her trust in him to love her, to be faithful to her, to lead her and to lift her up in her time of need. 
Men, there is no job we have that is more important than this.  We need to make PRotection our PRiority.
(Next–Part 4–PRovide)