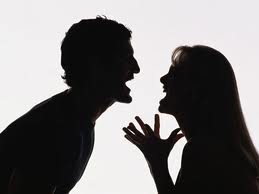 TRUTH IS INDISPUTABLE
All of us spend our lives accumulating facts, having experiences, hearing other people's opinions, analyzing our own perceptions, and we weave the sum total of it all into what we call "belief."  Our beliefs are what define us as human beings, and we cling to them for dear life.
But not everybody believes the same thing, obviously.  Some would argue that because there are so many societal belief systems and individual belief patterns in the world, how could we possibly think that there is any such thing as absolute truth?
Well, simply put, belief is not truth.
Belief is individual; truth is universal.  Belief dies with the person or culture that holds onto it; truth is eternal.
And here's the biggie: belief causes arguments; truth ends them.
One problem with belief is that it is colored by our perception, the narrow tunnel through which we view the world.  As such, it seems we are always ready to question others' beliefs, but rarely do we question our own.
WHY do we believe what we believe?  How many of us can truly answer that?  How many of us have ever even thought about it?
If someone says or does something that is contrary to our beliefs, the adrenalin kicks in, and we are ready to go to the dirt for what we believe in.
But truth is another matter entirely.  Because Truth is what's left over at the end of the argument.
Take the two most disagreeable people on earth.  Lock them in a room, give them a topic (and an occasional bathroom break), and they will argue for hours and hours.  Each believes that he is right and the other is wrong.  But given enough time, they will eventually run out of things to disagree about. Then they will hit upon the one thing that they must agree on, because they have no choice.
This is truth.  Indisputable truth.
We know that we have transcended mere belief and found the truth when there is nothing left to argue about.  Whatever started the argument, truth is what ends it.
Two plus two equals four, because it simply can not equal anything else.
(to be concluded in Part 4: Offense)