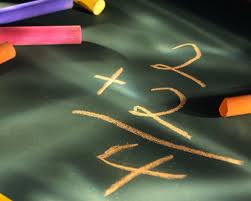 (Hi there!  This is the first in a four-part series on the Nature of Truth.  If you're new to this site, please stop by the About Truth Mission page first.  That'll give you an idea of where I'm coming from with the rest of this.)
Are you as bored as I am with hearing "There is no such thing as absolute truth!"?  So many philosophies have been built upon this eight-word contradiction, all the while ignoring that any statement with the words "no such thing" in it is, by definition, an absolute.  For that statement to be true, it would have to be. . .true.  Which would make it a lie.
But why hurt your brain with such pointless, convoluted philosophy?  Here at Truth Mission, we like to keep things as simple as possible. 
So let's look at some observations concerning what truth is, and what truth is not.  I will illustrate using a concept that anyone reading this can understand: 2+2=4.
TRUTH IS ETERNAL
Truth is that which has always existed and will always exist.  It does not change, because it can not change.  What is true today was true yesterday.  It will still be true tomorrow, and the day after that, and the day after that, for all eternity.  Times change, civilizations rise and fall, ideas go in and out of fashion, but truth remains.
Two plus two equals four.  It equaled four from the beginning of time, it equals four today, and it will always equal four.
TRUTH IS UNIVERSAL
Truth applies to all people in all places the same way.  Something that is true for a Christian in the United States is true for an atheist in France.  That same truth also applies to the Bushmen of the Kalahari, the Aborigines in the Outback of Australia, the Waodani tribe in the jungles of Ecuador, Barack Obama in the White House, your aunt Ruth on the back porch, or a five-year-old kid in Iceland learning his addition for the first time.
Two plus two equals four, for all people everywhere.
TRUTH IS NOT A CULTURAL OR SOCIAL PHENOMENON
The world is a multitude of different cultures, customs and social taboos (or the lack thereof).  Even in a single place, over time, these cultures, customs and taboos change.  How many times have you heard someone older than you start a sentence with "When I was your age. . .," indicating that something was different then than it is now?  There will always be changing trends that influence what is considered socially acceptable or morally objectionable within a culture; however, because it is eternal and universal, the truth never changes.
Two plus two will never cease to equal four, no matter what else changes.
(Still with me?  Stay tuned for Part 2: Perception)